Welcome To Mazi – News & Magazine For React Native Mobile Template documentation.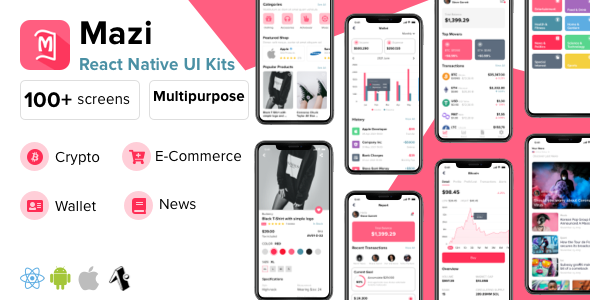 Firstly, a huge thanks for purchasing this template, your support is truly appreciated!

This document covers the installation and use of this template and often reveals answers to common problems and issues – read this document thoroughly if you are experiencing any difficulties. If you have any questions that are beyond the scope of this document, feel free to pose them in the dedicated support section.
Template Features
100+ different sample screens
Flexible home screen: Cryptocurrency, Wallet, News, E-commerce
Cryptocurrency App
Wallet App
Project Management App
Podcast & Music App
Product list with 4 mode views
Product category with 4 mode views
Product detail
Product rating & reviews
Product gallery
Product wishlist
Product filtering, sorting & searching
Shopping & store profile
Store owner messenger
Shipping address management
Payment management
Shopping cart
Order history
Tracking order detail
Confirm payment completed
News detail
News review
News list with 4 mode views
News category with 4 mode views
News filtering, sorting & searching
News wishlist
Profile settings
About us
Contact
Sign in
Sign up
Reset Password
Notification
Followers
Page not found
Darkmode
Multiple language
Multiple color
Multiple font style
RTL Layout (Arabic language)
Support Iphone, Iphone X, Ipad, Android multiple devices (32bit & 64bit)
Free updates
and much more …
Application Demo
Available download on App Store & Google Play
IOS TestFlight: https://testflight.apple.com/join/S79XNrGC
Account Test: test/123456
Go ahead to know more.